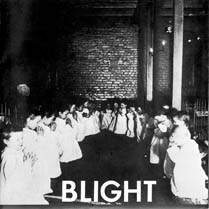 Deranged and demented hardcore punk/noise from ex-members of Michigan legends The Fix & The Meatmen. Tesco Vee(vocals, electric trumpet) backed by Steve Miller(guitar), Mike Achtenberg(bass) and Pat Clark(drums). Blight released just this one EP and played only 5 shows in their four month existence before slipping into the afterthoughts of America's middle aged youth. For fans of gritty love and anyone liking their hardcore on the weirder side of things. Released by the mighty Touch & Go and seemingly impossible to find.
1.The Dream Was Dead
2.Real World
3.Be Stupid
4.Bludgeon
5.Prophet of Doom
6.Seven Winds Over the Gobi Desert
Download Here.